GRIFFIN COMPETITION BUMPER PLATES
Our Griffin competition bumper plates are vibrant, 450mm IWF standard plates ready for any workout. Featuring zinc-coated steel inserts for hold and durability, these color-coded plates have a slim profile for stacking weights and minimal bounce. Best of all our competition plates are coated with indelible ink that won't rub off or fade. Pair these bumpers with a Griffin barbell.
Our competition bumper plates have been tested over 30,000 times without any damage to the rubber or insert. These plates are weighed and guaranteed accuracy of +/- 10 grams of the claimed weight. We frequently test for quality at our facility and even conduct salt spray tests for corrosion. Our 25lb competition bumper plates come in pairs in a box while the 35lb, 45lb, and 55lb plates come in individual boxes for safety and ease.
The 210lb set includes 1 pair of each: 25lb, 35lb, and 45lb. The 320lb set includes 1 pair of each: 25lb, 35lb, 45lb, and 55lb.
Bumper specs
WEIGHT TOLERANCE
+/- 10 grams of declared weight
PLATE DIAMETER
450mm (17.7 inches) IWF Standard
DUROMETER
90 ShA
BUMPER PLATE WIDTHS
Green 25lb (32mm/1.25 inches)
Yellow 35lb (44mm/1.70 inches)
Blue 45lb (55mm/2.15 inches)
Red 55lb (63.5mm/2.6 inches)
WARRANTY
Three-year warranty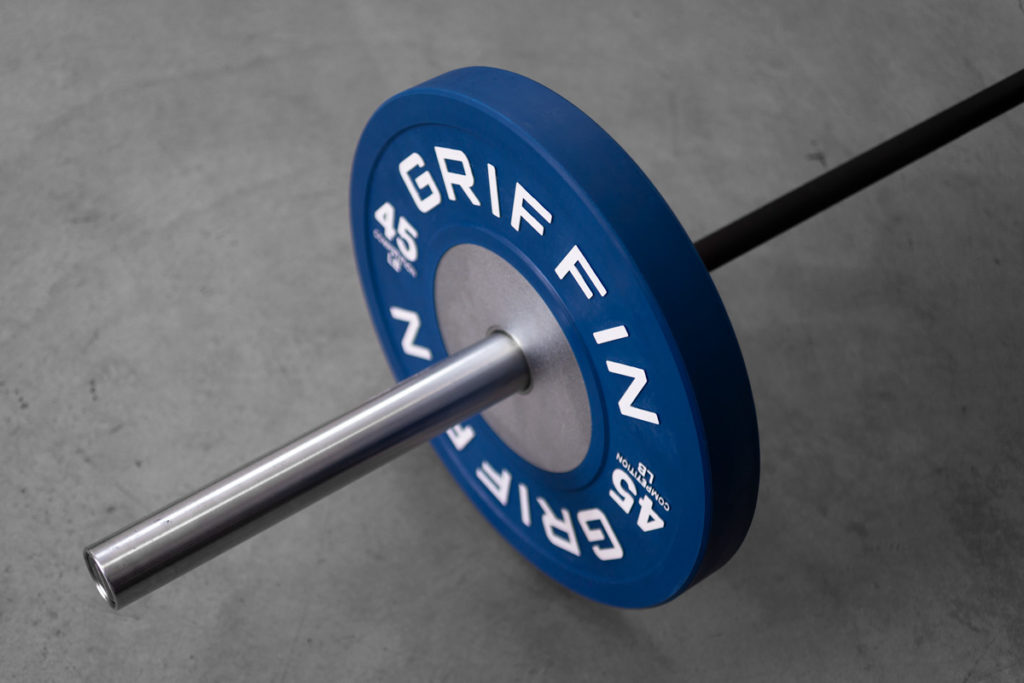 Features:
Made to IWF (International Weightlifting Federation) standard of 450mm diameter
Made with 100% virgin rubber
Weighed and guaranteed accuracy of +/- 10 grams of claimed weight
50.4mm insert diameter for a snug fit on olympic bars
7.75" steel insert width and raised rubber to reduce friction between plates
Low bounce for safety
Low odor
Color-coded for easy differentiation