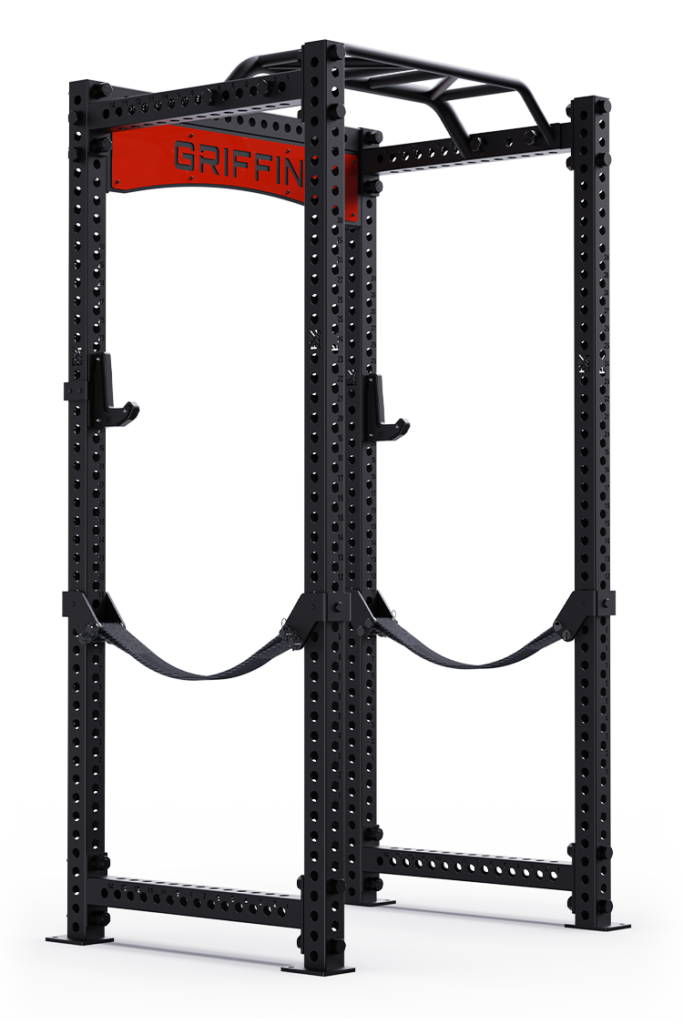 GR3 Power Rack
INCLUDED
Uprights, Crossmembers, Griffin Logo Plate,
Multi-Grip Pull-Up Bar, Strap Safeties, Flat Sandwich J-Cups
PREMIUM ATTACHMENTS COME STANDARD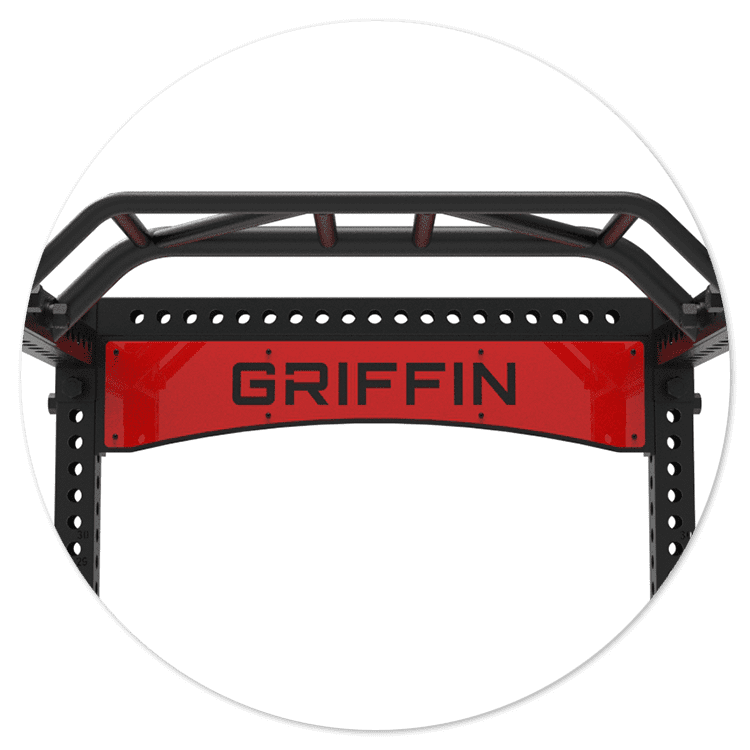 Griffin LOGO PLATE
Increased stability versus a standard crossmember.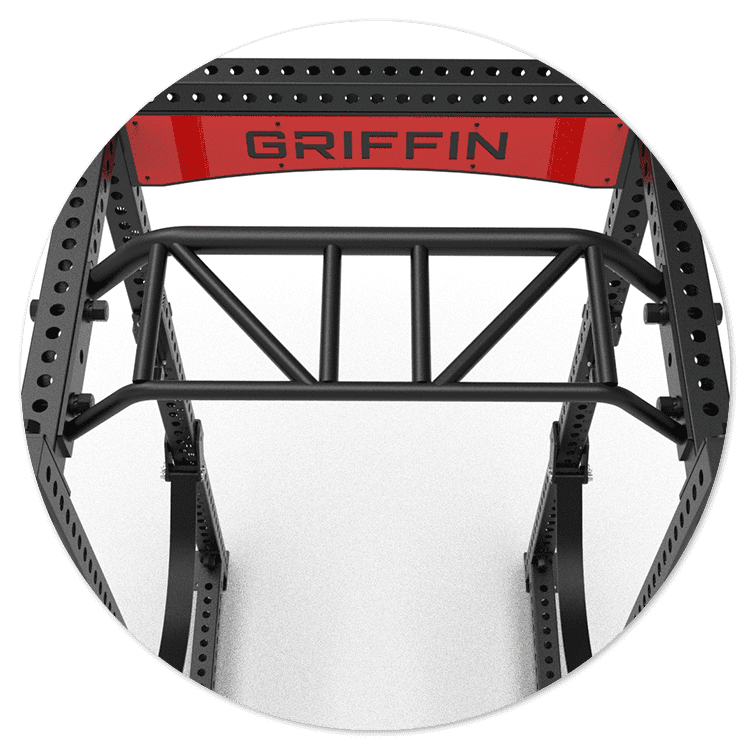 MULTI-GRIP PULL-UP BAR
Versatility for pull-ups and much more.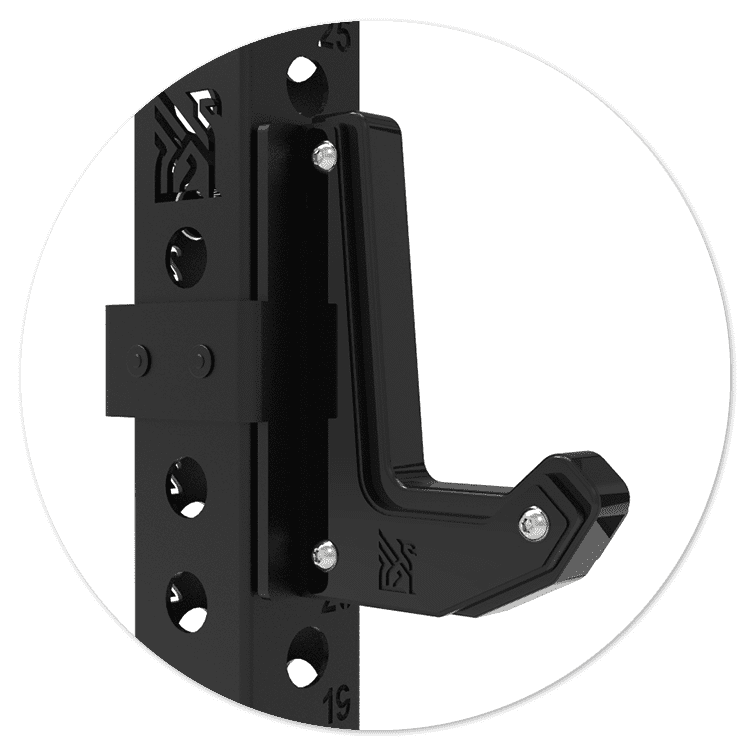 FLAT SANDWICH J-CUPS
Lined with UHMW for full barbell protection.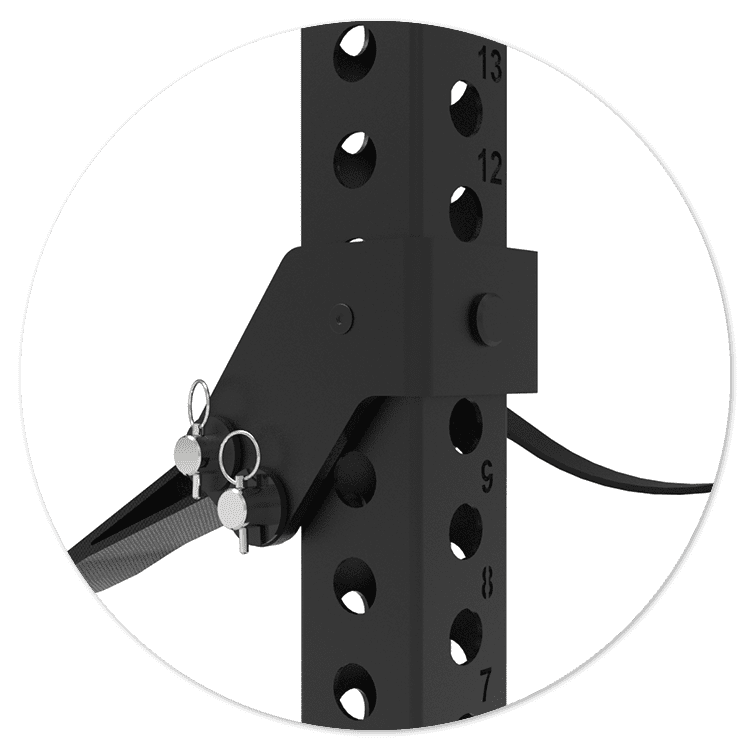 Strap Safeties
For peace-of-mind lifting and easy to adjust.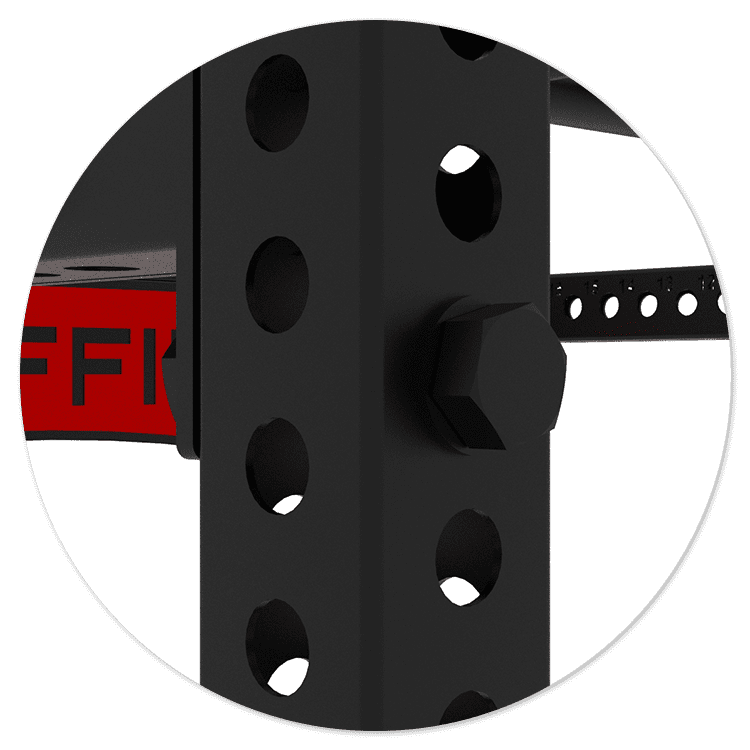 Black hardware
Black zinc hardware for a stealth look.
---
THE GRIFFIN GR3 POWER RACK
Future-proof your gym with the Griffin GR3 power rack. The only rack you'll ever need. Built only with the best materials, the GR3 comes standard with premium attachments––so you can get a full workout with the upgraded attachments you already know you want. Suitable for home gyms, training facilities, and commercial gyms alike, the GR3 power rack stands the test of time and strength.
The base power rack comes with (4) uprights, (4) crossmembers, a multi-grip pull-up bar, connecting logo plate, pair of our upgraded flat sandwich j-cups, and completely redesigned strap safeties. We highly recommend bolting the rack to the ground, but if you do not plan on doing so and want to use the outside of the rack, we recommend using front foot extensions. Current available attachments include a landmine attachment, dip attachment, weight horns, and band pegs, with more on the way. To shop all of our attachments, click here.
SPECificationS
| | |
| --- | --- |
| WIDTH | 47″ |
| DEPTH | 36″ |
| HEIGHT | 80.5″ or 92″ |
| STEEL SPECS | 3×3″ 11 Gauge Steel |
| FOOT PRINT | 36″ x 50.5″ |
| NUMBERED HOLES | Front and Back of Uprights |
| NUMBERED HOLES | 1-inch |
| HOLE SPACING | 2-inch |
| LOAD CAPACITY | 1500lbs |
| WARRANTY | Limited Lifetime Warranty |
upgRADE YOUR GR3 POWER RACK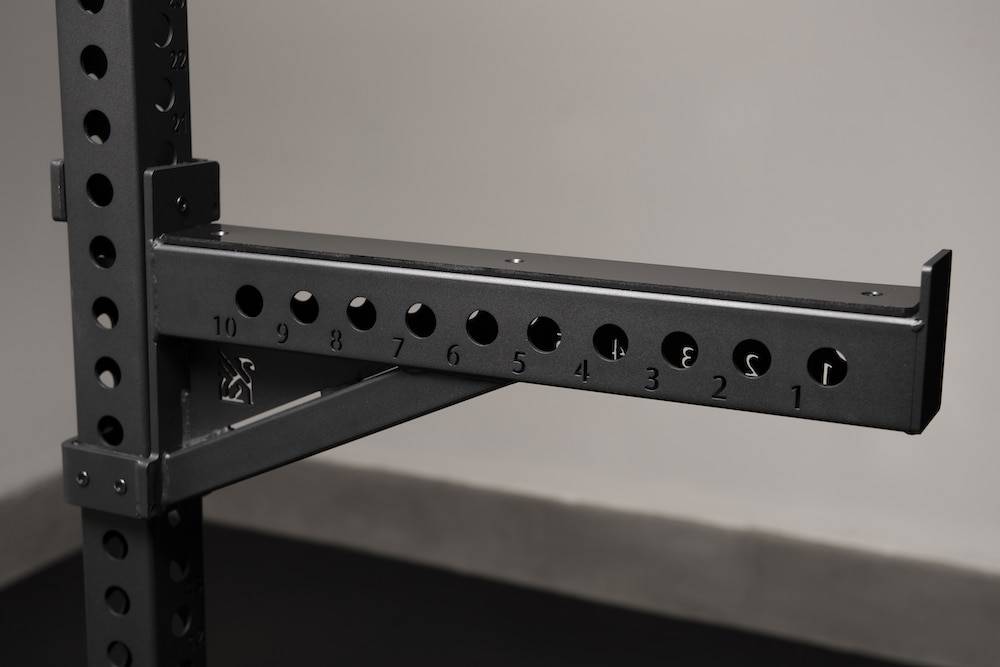 GR3 Spotter Arms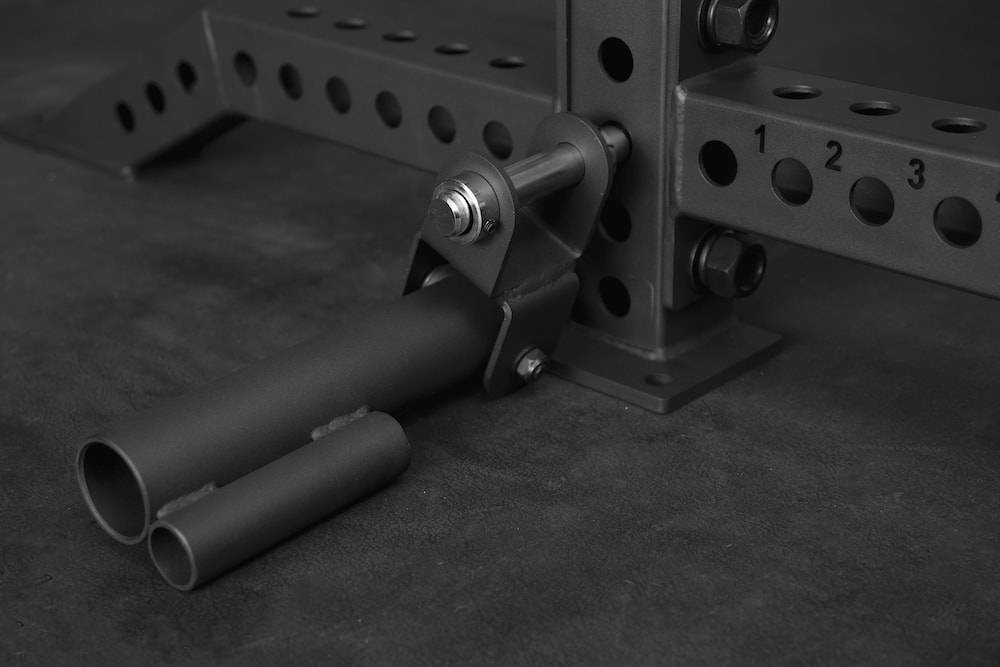 Gr3 Landmine Attachment
GR3 FRONT FOOT EXTENSIONS
Features:
3"x3" 11-gauge steel tubing with 1″ hole size
Easy to assemble with hardware included
2-inch hole spacing throughout
Perfect for home gyms, commercial gyms, schools, and stations
Ability to upgrade to additional attachments that are exclusively made for this power rack
Laser-cut holes on all four sides
Black hardware for a stealthy look
Numbering on the front and back of uprights and the sides of crossmembers
Sleek Griffin logo plate for additional security and stability
All come standard with UHMW to protect the rack
Load capacity: 1,500lbs
FREQUENTLY ASKED QUESTIONS
DO I NEED TO BOLT DOWN MY GR3 POWER RACK?




If you plan on using the outside of the rack for lifting, yes. We recommend bolting the rack into concrete or into a platform. The GR3 comes with concrete anchors to help you do so.

If you don't plan on bolting the GR3 down, we strongly recommend using front foot extensions. This will add more security to the rack for pull-ups or benching outside the rack. Add on a pair of spotter arms that you can use both inside and outside your rack.
IS THE GR3 A TRUE 3×3 POWER RACK?




The GR3 follows metric sizing, meaning that the uprights and crossmembers are 2.95″x2.95.
DO YOU HAVE ANY OTHER COLORS AVAILABLE?




Not at the moment! If you want a specific color be sure to request it on our community product leaderboard here: https://ideas.griffin.fitness/.

We build products based on the amount of requests we get, so this leaderboard is the best way to get those suggestions in!
CAN I ADJUST THE HEIGHT OF THE PULL-UP BAR?




Yes! Because the multi-grip pull-up bar attaches to the crossmembers, you can simply lower the crossmembers to accomodate your space limitations.

GR3 height hack: flip the multi-grip pull-up bar upside down.
WHAT SIZE ATTACHMENTS FIT THE GR3 POWER RACK?




The GR3 is designed with modularity in mind. While we can't guarantee fitment from other manufacturers, our attachments have 1″ pins and are designed for the GR3.
HOW MUCH IS SHIPPING AND HOW DOES IT WORK?




The GR3 is shipped through freight. All components will go on one pallet and is a $215 flat rate nationwide. Whatever fits on the pallet will fall under this rate, so it's a good time to add everything you need. Once we pack your order and ship it out you'll receive an email confirmation with a link to the tracking info.

As far as what to expect for your shipment, the shipping carrier will call you 24 hours before delivery to schedule an appointment. Someone must be present to accept the delivery and it will be dropped off curbside.